Quick Pick
Know the part number? Enter it below with the required quantity:
INVIDIA - Engine Parts
Previously know as RS*R Invidia, started manufacturing high performance exhausts back in the late 80's , after 1998 Invidia set up their own production facility to start producing racing exhausts, as the previous owner used to participate in local and international racing leagues and due to large demand of high quality exhaust systems that good cope with these harsh racing conditions Invidia set up a small local manufacturing facility to start providing race teams with quality exhaust that would outperform the competition. Rapidly becoming a mayor player in the local racing industry, due to extreme positive publicity and fast growing audience, recognition by the public was evident.
Due to the popularity of the Invidia brand, it was decided in 2001 to launch these high quality performance GT exhaust systems to the general public followed a few year later by the popular G200 series , carrying the name did really help pushing the brand forward into becoming a mayor Premium exhaust manufacturer delivering highest quality possible.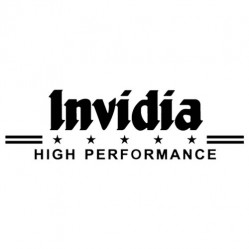 Part Number:
SBCB-14010GM
Stock Availability: Out Of Stock - 0 Available (Available To Back Order)